Muumi Baby Eco Disposable diapers - size 2 - 3 to 6 kg
Product description
The baby diapers and diaper pants are only made from pure raw materials and FSC certified wood pulp and do not contain any unnecessary chemicals such as lotions, fragrances or chlorine. All materials have been carefully selected to ensure they are silky smooth and environmentally friendly to baby's skin, without compromising on their effectiveness.
Why Muumi diaper & nappy pants?
Choose the right size based on the weight of your child. The Muumi baby diapers and diaper pants are certified with the Nordic Swan Ecolabel. They have been developed in collaboration with the Finnish "Allergy and Asthma Federation" and are dermatologically tested. The Muumi Baby diapers do not contain perfume, lotion, latex, formaldehyde or phthalates!
Perfect fit and excellent absorption .
Suitable for the most sensitive skin.
Provided with Asthma, Chlorine Free label and Allergy Finland label; a really safe and anti-allergic product.
0% perfume, 0% lotions, 0% latex.
No formaldehyde or phthalates or other harmful substances.
Environmentally friendly & Chlorine free
Provided with the Nordic Swan Eco label; is a very environmentally friendly product of high quality.
Made from FSCcertified wood pulp and provided with the FSC Label
CO2 neutral produced
The diapers can be ordered separately or per 3 packs.
Which diaper and size does my child need?
Diaper sizes:
Size 1 - 2-5 kg
Size 2 - 3-6 kg
Size 3 - 5-8 kg
Size 4 - 7-14 kg
Size 5 - 10-16 kg
Size 6 - 12-24 kg
Diaper pants sizes:
Size 4 - 7-11 kg
Size 5 - 7-15 k
Size 6 - 12-20 kg
Size 7 - 16-26 kg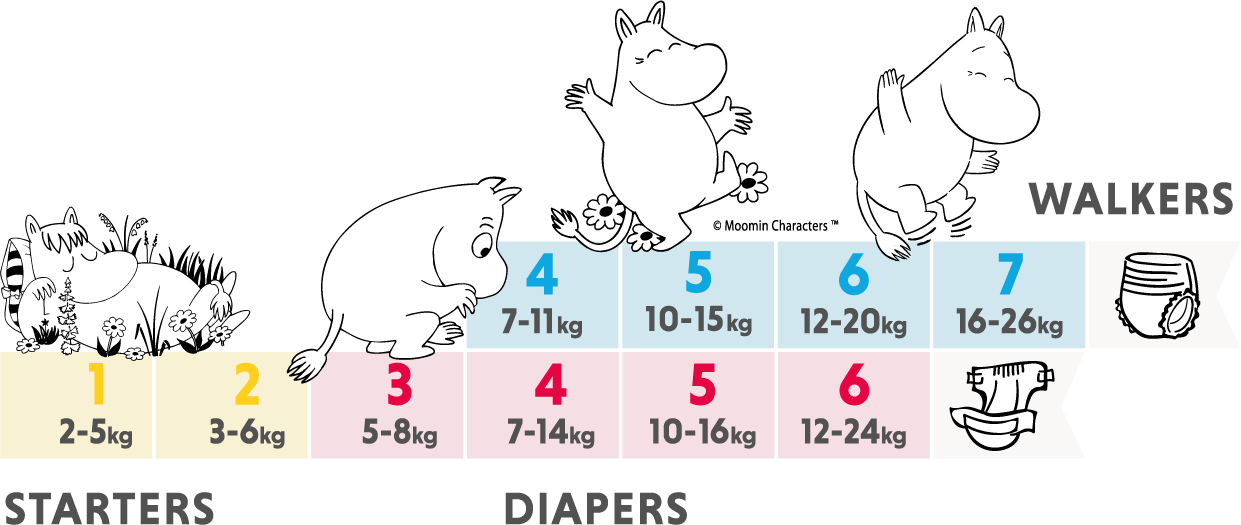 Renewable energy
The Muumi diapers and diaper pants are produced using 100% renewable energy. The diaper factory has switched to renewable hydropower and solar energy is supplied to the factory using its own power cables.
If the factory has waste left over during the production process, they ensure that the production waste is recycled or incinerated for new energy. Among other things, these steps have ensured that the producer produces the diapers completely CO2 neutral .
Curious what our testers think of the diapers? Then read our blog here !
Muumi Baby

€24,25